Does My Homeowner's Insurance Cover My Roof?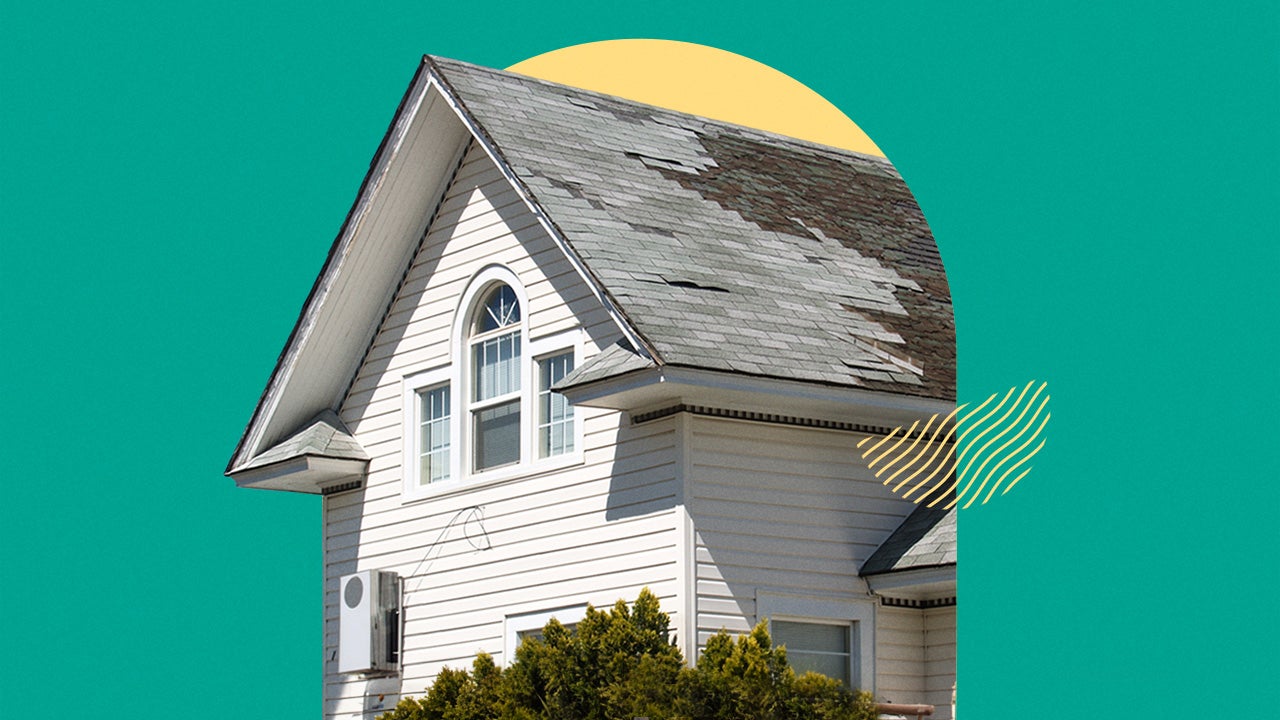 Homeowners insurance usually covers damage to your roof, but it will depend on the cause of the damage and other factors. You should carefully read your policy and talk to a licensed agent to understand your specific homeowners insurance coverage.
If you have a leaky roof, be sure to take photos of the damage from ground level (or, if safe to do so, from a ladder). Documenting the damage will help speed up your claim.
Dwelling Coverage
Dwelling coverage — also known as "Coverage A" in a home owner's insurance policy — pays to repair or rebuild the structure of your house after damage from a covered peril. It covers the home itself as well as attached structures like garages, decks and porches. However, it does not typically cover detached structures such as sheds, barns or swimming pools (although these structures can usually be covered under an endorsement to the policy called other structures coverage).
Your dwelling coverage limit should be high enough to allow you to rebuild your home at today's labor and material costs in the event of a total loss. Inflation and natural disasters can cause these costs to rise significantly over time. That's why it is a good idea to review your dwelling coverage limits each year and make sure they are adequate.
The roof is one of the most vulnerable parts of your home to damage from weather and other causes. It may be damaged by falling debris, the force of wind or even the weight of snow and ice. In addition, your roof can be affected by leaks, which can cause water damage to furniture and other belongings.
Homeowners insurance is designed to provide protection from a wide range of events, including fires, theft, vandalism and some forms of wind, hail and water damage. The most common homeowners insurance form, an HO-3, typically provides protection on an open-peril basis for your dwelling and other structures on your property and on a named-peril basis for personal property, except those exclusions listed in the policy.
An HO-3 policy typically does not exclude damage to your roof from flooding or earthquakes, but you will need to buy an additional flood or earthquake insurance policy for this coverage. You can also buy an optional ordinance or law endorsement for an additional cost that allows your dwelling to be rebuilt to meet new building codes or requirements imposed by local authorities after your home was built. This type of coverage can be particularly helpful if you have made significant renovations to your home that would not be reflected in your dwelling coverage.
Personal Property Coverage
As you likely know, your roof is a key part of your home, and it's exposed to the elements all year long. That means it takes quite a beating, from ice and snow in the winter to tropical storm-force winds and sun exposure in the summer. That's why it's important to maintain your roof properly.
The good news is, homeowners insurance can help with that too if you have the right policy. In fact, most standard policies, called HO-3 policies, provide protection for personal property that's damaged by certain perils. These perils typically include fire or lightning, windstorms and hail, explosions, riots or civil unrest, smoke from a fire, damage from aircraft or vehicles, theft and vandalism. If the loss results in your roof being destroyed, the insurer will pay to replace your roof up to your dwelling coverage limit minus your policy's deductible.
If you have an HO-3 policy with replacement cost value (RCV) roof coverage, your insurer will replace your roof up to the policy's limit after a covered claim, minus the deductible. However, if your HO-3 policy has actual cash value (ACV) coverage, the amount you receive after a claim will be reduced to reflect depreciation.
It's worth mentioning that wear and tear caused by neglect or normal aging generally aren't covered by your homeowners policy, even if the damage is from a named peril. That's why it's so important to make sure you keep up with general roof maintenance and to file a claim as soon as you notice damage.
In addition, some homes may need an ordinance or law endorsement to cover changes in building codes or local laws that were not in effect when the house was built. If you have this coverage, it will help with the costs of upgrading or replacing the structure to comply with current safety standards. Talk to your agent about the available options to make sure you have the proper protection for your home and roof.
Other Structures Coverage
When disasters strike, it isn't just a home that could be destroyed. Other structures on a property such as fences, sheds and detached garages can be affected as well. Fortunately, homeowners insurance includes coverage for these structures that is separate from the dwelling coverage. Known as Other Structures Coverage in insurance lingo, this portion of the policy protects these structures against the same perils that affect the dwelling, such as storms, fire and theft.
In most cases, Other Structures coverage is included as part of a standard home owner's policy. The limit is usually about 10% of the dwelling coverage. However, it is important to evaluate what is being protected and the value of those structures. This involves determining their replacement costs, including the cost of labor and construction materials. It is also helpful to consider the purpose for which each structure is being used. This could have an impact on the amount of coverage needed, especially if the structure is being used commercially such as a guest house or detached garage that is being rented out.
The other structures coverage, also known as Coverage B in insurance terms, is designed to provide a level of protection that will ensure these additional buildings on your property are repaired or replaced if they are damaged or destroyed by a covered peril. It does not, however, replace personal belongings inside of the structures and these would be covered by the Personal Property coverage that is provided under a standard home owner's policy.
For most homeowners, it is a wise idea to have sufficient Other Structures coverage for the value of all these structures on their property. To do this, it is important to determine their actual replacement cost and compare that to the coverage limit available for Other Structures under their dwelling coverage. If the total cost of replacement is likely to exceed that limit, then a homeowner should look into purchasing an endorsement to increase the Other Structures coverage.
Since life changes and changes to a property can impact coverage needs, it is a good idea for homeowners to review their policy on a regular basis or whenever significant modifications occur. It is also a great idea to discuss any concerns about potential coverage with their insurance agent.
Wind and Hail Coverage
Homeowners insurance provides coverage for the cost to replace your roof if it sustains damage from wind or hail. This is typically a separate deductible from the dwelling deductible that you chose when purchasing your policy. However, some insurers offer a feature called Diminishing Deductible that can decrease your roof deductible by $100 each year you don't file a claim.
Wind damage is a common occurrence from severe storms, particularly those that produce high winds or tornadoes, such as those in coastal states or the Midwest. This type of damage can cause destruction to your home's windows, fences, lawn furniture and vehicles.
Most homeowner's policies include a provision for coverage of these damages, but this coverage is not available on all properties. If you own a property in an area prone to these types of disasters, be sure to ask about including a comprehensive wind and hail coverage on your homeowners or investment property policy.
If you are a renter, you might be covered by your landlord's insurance policy or a special rental-specific policy. Both options provide a good amount of protection in the event of significant hail or wind damage. Renters insurance will also cover additional living expenses like hotel bills or restaurant meals if your home is uninhabitable after a disaster.
The best way to protect yourself from costly damage is to keep your roof in good condition. Invest in impact resistant roofing that can resist damage from both hail and wind installed by the expert Roofing Contractors South Jersey. In addition, many insurance companies provide a discount on premiums for those who choose to install a new roof with these types of materials. Be sure to ask your agent about these discounts before making any changes to your roof. If you do have to file a claim, be sure to document the damage as much as possible so that you receive all the compensation you are entitled to under your policy. This includes taking photos of any exterior damage, as well as creating a list of damaged items.
Homeowners insurance usually covers damage to your roof, but it will depend on the cause of the damage and other factors. You should carefully read your policy and talk to a licensed agent to understand your specific homeowners insurance coverage. If you have a leaky roof, be sure to take photos of the damage from…
Recent Comments
No comments to show.